Last weekend, Team Dave held our annual FLL competition at St. David CSS. Through the generous sponsorship of Kik and Brick Works Academy, our event was an incredible success.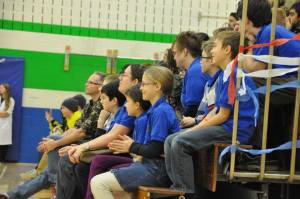 Early on the Saturday morning, 11 FIRST Lego League teams from the nearby area made their way to the event. The pits quickly filled up and Lego robots and activity as teams worked on building and programming their robots, practicing their projects, and showing Gracious Professionalism and Coopertition.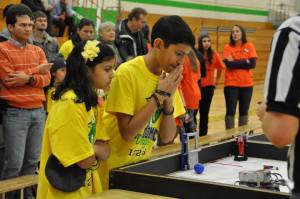 The matches began with many high scoring teams and their robots. The highest score during the event was 250 from Cobra 967. Teams competed against each other, and showed good sportsmanship towards each other. In addition to normal competition activities, Team Dave also proposed a "Selfie" Challenge, in which teams had to go around to various judges, referees, volunteers, and Team Dave's robot and take a Selfie with them.
At lunch time, Team Dave ran a FRC robot demo to demonstrate the next level of FIRST to the FLL students and their parents. The kids and parents were very impressed and interested in the robot's performance and had a lot of fun driving it. We were also fortunate to have Makeshift Robotics 4039 come to our competition as well and drive their robot in the FRC demo as well.
Overall, the tournament was a great success, made possible by the support of multiple volunteers, judges, referees, Kik, Brick Works Academy, and Makeshift Robotics. Thank you to all those who helped and attended the event. Congratulations to all the teams who attended, and good luck to 967 Cobra and 8728 Bricks 'n' Bots in the coming competition at the University of Waterloo next year.