On March 4th and 5th, Team Dave competed at the Durham District event in Oshawa, Ontario. Sporting a new gear mechanism, the team was excited to unveil our 2017 creation, "Attenborough", in the first Ontario district competition ever.
Team Dave opened up with an exciting 196-170 win in our first qualification match. However, a very tough schedule and our rope snapping multiple times brought our record down to 7-5-0 overall, which seeded us 13th overall.
The Chairman's presenters pulled off a wicked presentation bolstered by a creative visual board, but unfortunately fell just shy of winning the Chairman's Award.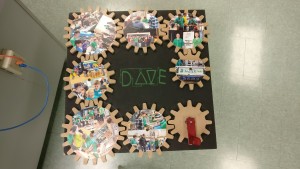 At alliance selections, we were happy to join Team 5036, The Robo Devils on the third alliance. We were also very excited to select Team 4476, W.A.F.F.L.E.S., to be the third robot on the alliance.
After a tie in our first quarterfinal match against teams 2994, 6513, and 5428 raised the tension in the stands, our alliance roared to a 311-245 win to gain the series lead. We then squeaked out a 157-145 win to move on to the semifinals. here we met a tenacious alliance consisting of team 1285 The Big Bang, team 4939 Allspark9, and team 4946 Alpha Dogs. We lost our first match 336-273 in a tough struggle, but then rebounded to even the series with a 255-244 win. Unfortunately, in the final match, our gear mechanism became jammed with fuel game pieces and we were unable to climb. This 260-116 loss ended our playoff run.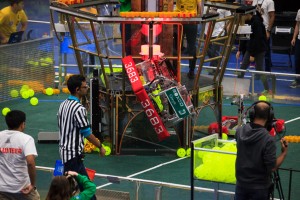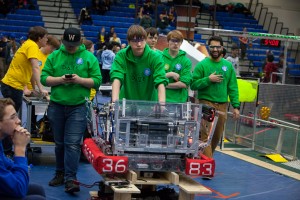 Team Dave would like to congratulate the talented alliance of teams 1285, 4939, and 4946 on winning the event, as well team 772 The Sabre Bytes for winning the event's Chairman's award.
Team Dave will be competing next at our home competition, the Waterloo District event. We encourage all our sponsors and parents to come out and cheer us on at the University of Waterloo PAC on March 24th and 25th, as well as anyone else who wants to see what our team is all about!